SUNDAY SALAD SAMPLERS WEEK #4 – THAI CHICKEN SALAD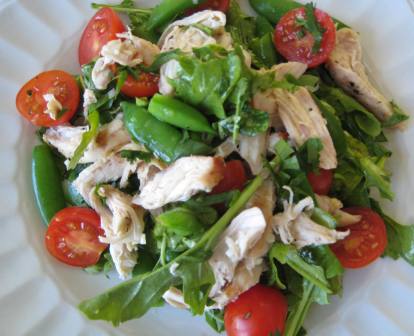 This week our salad was chosen by Jerry of Jerry's Rants, Musings, and Recipes. He chose Thai Chicken Salad. The recipe was modified from one he learned to make at a cooking class he took. If you like the flavors of Thai cooking, you'll love this recipe. You get that citrusy tang from the lime, the saltiness from fish sauce, and the heat from chilie peppers. It was easy to put together, and the leftovers will probably taste even better tomorrow when the flavors have had a chance to meld. Thanks Jerry for the recipe!

Thai Chicken Salad
For the chicken:
4 roasted chicken breasts
½ tsp chopped galangal (can substitute with ginger)
Juice of two limes
1 ½ tsp minced bird's eye chilies (or 1 tsp chili paste such as sambel oelek)
2 shallots, minced
2 garlic cloves, minced
2 kaffir lime laves – centre rib removed, cut in a chiffonade
¾ tsp fish sauce
Shred the chicken breast.
Mix all of the dressing ingredients.
Toss the shredded chicken with the dressing. Adjust the seasonings – there should be a balance of hot, sour, and salt. To adjust seasonings in Thai food follow these rough guidelines . . . if it is too sweet add more fish sauce . . . too salty add more sugar . . . not tangy enough – add more lime juice . . . not hot enough – add more chili or some sambel oelek
For the salad base:
2 T fish sauce
2 T palm sugar – (can substitute with regular or brown sugar)
¼ cup lime juice
4 garlic cloves, minced
4 bird's eye chilies, minced
1 bunch watercress, trimmed
8 Napa cabbage leaves cut in a chiffonade
16 cherry tomatoes cut in half
1 cup blanched green beans, cut into 1-inch lengths
½ bunch cilantro, leaves trimmed and coarsely chopped
½ bunch mint, leaves trimmed and cut in a chiffonade
½ cup roasted peanuts (non-salted) or cashews, chopped
Mix the fish sauce through to chilies in a jar. Stir/shake well to dissolve sugar. Taste for seasonings). Store it in the refrigerator overnight so the flavours come together.
Mix together the watercress through mint in a large bowl.
Toss with dressing.
To serve:
Divide the vegetable mixture amongst 4 plates.
Add the chicken on top of the vegetable mixture.
Sprinkle with chopped, roasted nuts. You can also add some cilantro to garnish.
Substitutions I made-I used ginger instead of galangal, bok choy instead of napa cabbage, and arugula instead of watercress.