SUNDAY SLOW SOUPERS # 21 – GULASCHSUPPE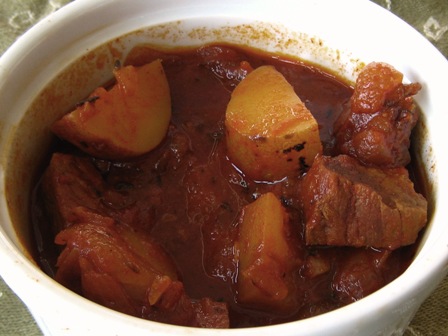 This is the last week I will be participating in our Sunday Slow Soupers. There is one week left, and I'm sure the last soup will be very good (Cream of Artichoke), but I will be out of town and unable to make the soup. I am really going to miss our soup-making. We've had some great soups over the last 21 weeks. But soon warmer weather will be here, and we'll be moving on to Salads. But, in the meantime, our soup this week is Gulaschsuppe, or Goulash Soup. This soup was chosen by kayee. Another great soup. I think I cooked mine a little too long, as I ended up with very little broth left in the pan. But on the otherhand, my beef was extremely flavorful, and the broth that was left had a wonderful intense flavor of paprika.

This recipe is from The New German Cookbook by Jean Anderson and Hedy Wurz. I've made the soup a couple of times from different recipes, and this one seems to be the best starting place.
2 pounds boneless beef chuck, cut into bite-sized cubes (a little more doesn't hurt)
3 tablespooons butter
2 medium-size yellow onions, peeled and coarsely chopped
1 large garlic clove, peeled and minced
2 tablespoons Hungarian sweet rose paprika
1 teaspoon dried thyme
4 cups cold water
2 cups rich beef broth (homemade or canned)
2 medium-size potatoes, peeled and cut into bite-sized cubes
3 tablespoons tomato paste
1/2 teaspoon salt
1/2 teaspoon freshly ground black pepper
Variations: You could add small strips of green pepper and/or a can of tomatoes. To make it spicier, add some red pepper flakes. This cookbook's recipe also has an option for green beans, but I don't remember ever seeing this. (And I've had a LOT of gulaschsuppe!)
About that Hungarian sweet paprika… I got mine at a gourmet food store. I found this discussion on the internet concerning the spice.
This recipe makes 6-8 servings. It is really better made the day before and reheated. (Skim the fat off the top before re-heating.)
– Brown the beef in two tablespoons of the butter in a large heavy kettle over high heat. Transfer the beef to a bowl using a slotted spoon.
– Add the rest of the butter to the kettle, then the onions (and green pepper if added), and saute for about five minutes. Add the garlic near the end.
– Return the beef tot he kettle, add the paprika and thyme, and cook together over moderate heat for 1-2 minutes, stirring often.
– Add the water and broth, bring to a boil, adjust the heat to simmer, cover and cook 45 minutes.
– Add the potatoes. Re-cover and simmer 45 minutes longer, until beef and potatoes are tender. Stir in the tomato paste, salt and pepper, heat through, and adjust the seasonings if neeeded.
I've had the soup made a few times with ground beef instead of the beef cubes, but all the recipes I've seen use the cubes of beef chuck or stew beef.
And although this sounds like a hearty winter soup, it is good all year long!