SUNDAY SLOW SOUPERS #20 – HOT AND SOUR SOUP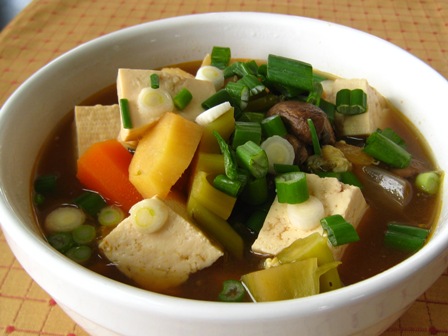 We're coming to an end with our Sunday Slow Soupers. I think we have 3 weeks to go. Even though I've been making soup for 20 weeks now, I'm still enjoying it, and each week brings a new suprise.
This week's soup was chosen by AnnieNC. She chose Hot and Sour Soup. She found the recipe online years ago, and has been making it ever since. It's not like a tradional Chinese Hot and Sour Soup-it's not thickened with cornstarch.
I followed the recipe with a few exceptions: I used 3 cans of broth, the entire block of tofu, and also added brocolli and carrots. The soup is very easy to make, and very flavorful. My husband hasn't eaten tofu in years, and has never liked it, and he really liked this soup and said he didn't mind the tofu at all. Another easy, healthy soup to add to the recipe collection.

Hot and Sour Soup
Two 13-3/4 ounce cans low-salt chicken broth
Three slices of fresh ginger root
2 tablespoons tamari or dark soy sauce
1/4 cup of rice wine vinegar
1/2 teaspoon hot chili oil (more or less)
1/2 teaspoon dark sesame oil
1/2 teaspoon sugar
1/2 teaspoon white pepper
1/2 cup bamboo shoots
1/2 cup of firm tofu, diced into small squares
one egg lightly beaten
Garnish:
1 or 2 scallions, including greens, diced
1/4 cup cilantro, chopped
Instructions:
Bring the chicken stock and the fresh ginger root to a slow boil for two or three minutes.
Remove the ginger slices and discard. Turn the heat down slightly.
Add the rest of the liquid ingredients, the sugar, and the white pepper. Simmer for about five minutes and then taste to make sure it's hot and/or sour enough. Adjust as needed.
Add the bamboo shoots and the tofu. Stir gently.
Bring the soup to a slow boil again and quickly add in the lightly beaten egg while stirring. Remove the pot from the heat immediately and continue to stir to break up the egg pieces. Garnish and Serve.
VARIATIONS(from Annie):
I always leave the egg out.
Sometimes I use Pacific brand Mushroom broth or Vegetable broth instead.
I use low sodium Tamari (brand: San-J)
Sometimes I use Sriracha hot sauce instead of the hot chili oil.
Other things I might add:
Garlic
Fresh baby spinach leaves or other green leafy thing
Sliced mushrooms
Water chestnuts
A can of stir-fry vegetables with baby corn
Mung bean sprouts
Snow pea pods