DARING BAKERS APRIL CHALLENGE – CHEESECAKE!
It's time for another Daring Bakers Challenge. There's always such suspense when waiting to see what the choice for the month will be. I was very happy when I saw the post – Cheesecake!
The April 2009 challenge is hosted by Jenny from Jenny Bakes. She has chosen Abbey's Infamous Cheesecake as the challenge. She decided to pick a basic cheesecake recipe, and our challenge was not only to make the cheesecake, but to come up with a unique flavor and presentation.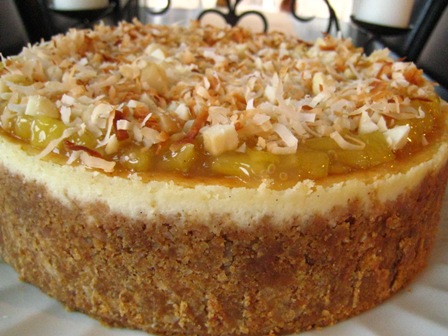 I decided to create a Pina Colada Cheesecake. I recently returned from a trip to Hawaii, and brought some fresh pineapple back with me. I wanted to incorporate that into the cheesecake, and what a better way than combining it with the flavors of coconut and rum.
This cheesecake is baked in a water bath, which allows it to cook at a slower, more even temperature. The texture was so nice-light, almost fluffy. Not the heavy dense cheesecake you might be used to. It is really a nice recipe. A hint-if your springform pan isn't completely watertight, be sure and wrap a couple of layers of heavy-duty aluminum foil around the pan to prevent water from seeping in and making the crust soggy.

PINA COLADA CHEESECAKE
Adapted from the recipe Abbey's Infamous Cheesecake
Crust:
2 cups graham cracker crumbs
½ cup shredded coconut, toasted
1 stick butter, melted
2 tablespoons sugar
1 teaspoon vanilla extract
Mix together the crust ingredients and press into bottom and up sides of aa 8 or 9" springform pan. (Wrap heavy duty foil around bottom of pan, 2 layers, so the water bath doesn't seep into the crust.) Set in the refrigerator while you make the filling.
Filling:
3 8oz packages cream cheese, room temperature
1 cup sugar
3 large eggs
1 cup coconut milk(I used the thickest part from a can of coconut milk)
½ teaspoon lemon zest
1 vanilla bean
½ teaspoon coconut extract(can omit if you don't want a stronger coconut flavor)
3 tablespoons dark rum
Preheat oven to 350 degrees. Begin to boil a large pot of water for the water bath.
Combine the cream cheese and sugar in the bowl of a stand mixer (or in a large bowl if using a hand-mixer). Cream together until smooth. Add eggs, one at a time, fully incorporating each before adding the next. Be sure to scrape down the bowl between each egg. Add coconut milk, seeds scraped from the vanilla bean, lemon zest, coconut extract and rum. Blend until smooth and creamy, but do not overbeat.
Pour batter into prepared crust and tap the pan on the counter a few times to bring all air bubbles to the surface. Place the pan into a larger pan and pour boiling water into the larger pan until halfway up the side of the cheesecake pan.
Bake 45 to 55 minutes, until it is almost done. This can be hard to judge, but you're looking for the cake to hold together, but still have a lot of jiggle to it in the center. You don't want it to be completely firm at this stage. Close the oven door, turn the heat off, and let rest in the cooling oven for one hour. This lets the cake finish cooking and cool down gently enough so that it won't crack on the top. After one hour, remove cheesecake from the oven and carefully lift out of the water bath. Let it finish cooling on the counter, and then cover and refrigerator until overnight.
Topping:
1 cup finely chopped fresh pineapple
¼ cup sugar
1/3 cup water
4 teaspoons cornstarch
1/8 cup rum
½ cup toasted coconut
½ cup toasted macadamia nuts or pecans, chopped
Place pineapple in a small saucepan. Stir the cornstarch and sugar together and add to the pineapple. Heat to boiling. Cook and stir until clear and thick, about 2 minutes. Take off heat and cool. Add the rum and stir until combined.
When topping is cool, spread over top of cheesecake and sprinkle the toasted coconut and chopped nuts on top.
If you want to make the original plain cheesecake, just leave the coconut out of the crust. Then, in the filling, use heavy cream instead of the coconut milk, use 1 tablespoon lemon juice in place of the lemon zest, and use 1 tablespoon of any liquor in place of the rum. And leave out the coconut extract.