SUNDAY SLOW SOUPERS #17 -ONE OF EACH SOUP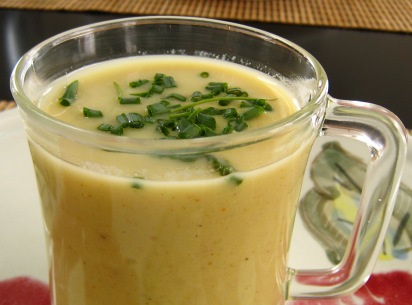 It is almost impossible to believe that we are at Week #17 of our soupmaking. I guess in some ways the winter has flown by (only in some ways though).
This weeks soup was chosen by Jan. She said that she originally found this recipe in the Dec. 2001 issue of Gourmet, and has been making it ever since. The recipe called for serving it cold, but she enjoys it more hot. It is a very unusual soup that we really enjoyed(who ever heard of banana in a soup?). It calls for a combination of fruits and vegetables, which are cooked in chicken broth, pureed, then cream and curry powder are added. I used 1 teapsoon of regular curry powder, but decided I wanted more of a kick, so I added another 1/2 teaspoon of Sri Lankan curry powder, which is more spicy and hot. I also used a combination of skim milk and fat free half and half instead of cream, and skipped the butter.

One of Each Soup
Yield: Makes 4 to 6 servings
1 large boiling potato (1/2 lb), peeled and coarsely chopped (I use Yukon Gold)
1 medium onion, coarsely chopped
1 celery heart (inner pale stalks with leaves), coarsely chopped (1/2 cup)
1 large apple (preferably Granny Smith), peeled and coarsely chopped
1 firm-ripe banana, coarsely chopped
1 pint chicken broth
1 cup heavy cream (I use whole milk)
1 tablespoon unsalted butter
1 rounded teaspoon curry powder
1 teaspoon salt
1 tablespoon chopped fresh chives (I have used chives or cilantro or a mixture)
Preparation:
Simmer vegetables and fruits in broth in a 3-quart heavy saucepan, covered, until very tender, about 12 minutes. Stir in cream, butter, curry powder, and salt and heat just until hot (do not boil).
Purée soup in a blender until smooth (use caution when blending hot liquids). Thin soup with water if desired and serve sprinkled with chives.
Cooks' note:
·Soup can be made 2 days ahead and chilled, covered.