SUNDAY SLOW SOUPERS #16 – WINTER MINESTRONE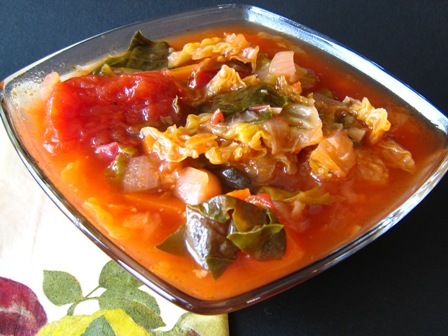 This week for our Sunday Slow Soupers, we had a bit of a misunderstanding. We didn't have anyone who was participating assigned. So we decided to use a recipe that Shannon found in Gourmet, for a Winter Minestrone. I was extremely happy with this choice, as I love minestrone, and I was suprised no one had chosen it as their soup. This ended up being a very expensive soup for me to make, as the swiss chard and escarole cost $3.99 each. But it made a very large pot, and the rest of the ingredients(besides the pancetta) were relatively inexpensive. I had never used escarole before. When raw, it's rather bitter tasting. But cooked, it really mellows out. I like that this soup is full of lots of healthy greens. I have frozen quite a bit of the leftovers, which will make some nice meals in the future. I served mine with just a sprinkling of grated parmesan reggiano over the top, and some toasted chewy bread on the side. And of course, a glass of red wine.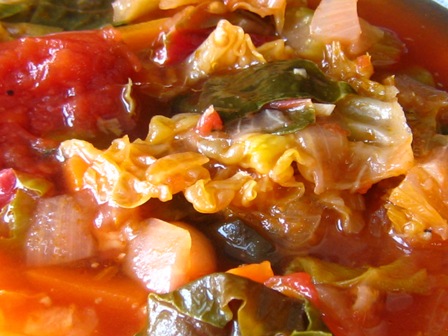 Winter Minestrone
Serves8
January 2009 Gourmet
Patience is the key to this soul-satisfying soup chock-full of winter greens. Its depth of flavor comes from cooking the soffritto—a mixture of pancetta, onion, celery, carrots, and the ribs from the chard—for a good 45 minutes and from browning the tomato paste. The result is so savory that there's no need for broth; water, canned tomatoes, and a parmesan rind work beautifully. And because this soup must cook slowly, don't worry about prepping all your vegetables before you begin—you can simply chop as you go.
1/3 lb sliced pancetta, chopped
3 medium red onions, chopped
4 celery ribs, chopped
2 medium carrots, chopped
1/3 cup extra-virgin olive oil
1 bunch Swiss chard
6 garlic cloves, finely chopped
2 tablespoons tomato paste
1 (28-oz) can whole tomatoes in juice
1 qt hot water
5 cups coarsely chopped cored Savoy cabbage (6 oz)
5 cups coarsely chopped escarole (1/2 lb)
1 piece Parmigiano-Reggiano rind (about 3 by 1 1/2 inches)
1 (19-oz) can cannellini beans, rinsed and drained
Cook pancetta, onions, celery, and carrots in oil in a wide 7- to 9-qt heavy pot over medium heat, stirring occasionally, while preparing chard.
Cut out stems from chard and chop stems, reserving leaves. Stir chard stems into pancetta mixture with garlic, 1 tsp salt, and 3/4 tsp pepper and continue cooking, stirring occasionally, until vegetables are very tender and begin to stick to bottom of pot, about 45 minutes total. (Set aside chard leaves.)
Push vegetables to one side of pot. Add tomato paste to cleared area and cook, stirring constantly, until it starts to caramelize, about 2 minutes. Stir paste into vegetables and cook, stirring, 2 minutes. (Paste may stick to pot, but don't let it burn.)
Stir in tomatoes with their juice, breaking them up with a spoon, then add hot water (3 qt), scraping up any brown bits from bottom of pot.
Bring to a simmer. Stir in cabbage, escarole, and parmesan rind. Simmer, covered, until greens are tender, about 40 minutes.
Coarsely chop chard leaves and stir into soup along with beans. Simmer, partially covered, 10 minutes. Discard rind. Season soup with salt and pepper. Can also add cooked ditalini pasta. If using, stir in just before serving.