SUNDAY SLOW SOUPERS #15 – LENTIL SOUP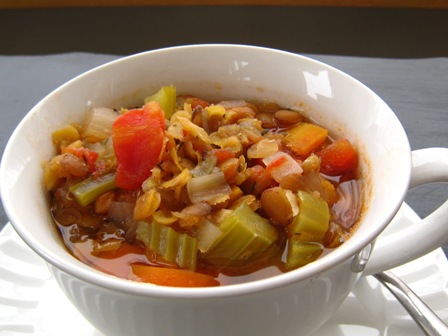 I can't believe today is March 1st. I have to say I am glad that February flew by. Now if only March and April will do the same. Those months are still winter here, so I will be glad to come to May. (Except when I'm on vacation in April, then that time can go really slow!)
I also can't believe that we have been making soup for 15 weeks now. This week's soup was chosen by Kim. It is her mother's recipe for Lentil Soup. I made it yesterday, and it was a perfect day for soup-snowing and cold.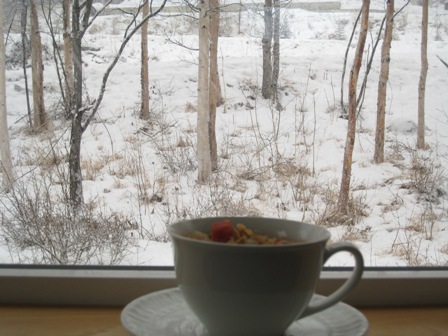 I really enjoyed this soup. It's a very basic lentil soup, but one which is prepared a little different from what I usually do. You don't saute the onions and celery first. You just throw everything into a big pan, and cook for a couple of hours until everything is tender. I followed the recipe with 2 exceptions-I didn't have any parsley, and I didn't have any crushed tomatoes, so I just used chopped (I was too lazy to puree them first). I made a double batch, so either I'll be freezing a lot, or we'll be eating soup for lunch and dinner all week long.
Lentil Soup (in Kim's words)
Recipe By :My Mom
1 Cup Lentils
4 1/2 Cups Chicken broth/stock
2 1/2 sprigs parsley — snipped
1 bay leaf
12 ounces tomato — crushed (I use canned)
2 stalks celery — chopped
2 sticks carrot — sliced
1 onion — chopped
2 cloves garlic – minced
1 teaspoon thyme (dried)
1. cook until vegetables are tender, 1 1/2 – 2 hours
Seriously, that's how my mother gave it to me. But basically, she just throws it all into a pot, brings to a boil and then lets it simmer. I often double it and freeze it.