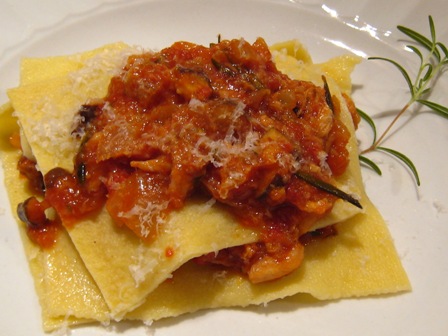 Last week, I fixed Palma's recipe for Roasted Rabbit with Fennel. It was SO GOOD!!! You have to try it. I unfortunately forgot to take photos before we ate it. I will make it again in the future, and post it on my blog. Anyway, I was so excited when I found rabbits for sale here. They were in a meat market, were frozen whole, and only $3.99/lb. My only disappointment, and one I'm trying not to think about, is after visiting the market again and bringing home 4 more, I saw they had a sticker that said they came from China. Unfortunately, that conjurs up all kinds of thoughts of things I don't want it to, but this rabbit is so delicious I'm just not going to think about where they came from again.

Anyway, when I began to plan what I wanted to make for Valentine's Day, I thought a homemade pasta with a rabbit ragu would be nice. I searched for recipes, and didn't come across too many that sounded extraordinary. Then I came across a blog called We Are Never Full. They had a recipe for 'Open' Raviolo with Hare and Juniper Berry Ragu. The recipe I've posted below is from their blog. I used my own pasta dough recipe, and doubled the recipe they posted. I also added about 10 shitake mushrooms, chopped into small pieces. This sauce was delicious. I don't know what I think rabbit tastes like, but not like chicken. It's more delicate than that. The only thing I might do next time is something different with the juniper berries. My husband didn't like eating them. I might crush them, tie them up in some gauze, and add that to the sauce so you get the flavor but not the berries.
Here's the process that I went through in making this dinner: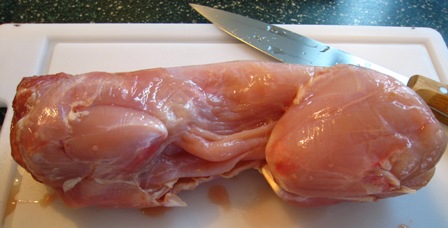 Here is the rabbit after I thawed it. I didn't know how to cut up a rabbit, but it worked out okay. Just do it kinda like a chicken (but then, I haven't cut up a chicken in years…). You end up taking the meat off the bone, so it doesn't really matter anyway.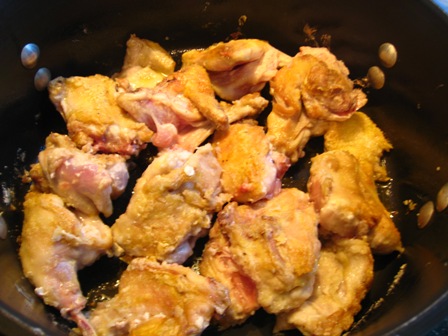 Here is the rabbit as you fry it at the beginning.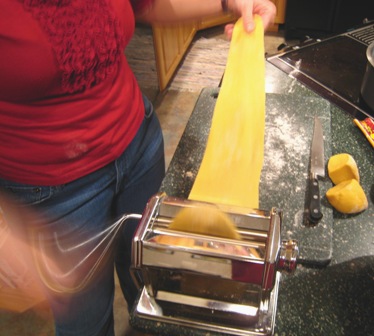 This is me making the pasta. I love making pasta. It's so easy, and I always forget how fast it is.
This is the recipe for pasta that I got while taking a cooking class in Florence. This dough is very easy to handle and doesn't stick to the pasta machine like some other recipes I have.
PASTA
Use 1/2 fine semolina and 1/2 regular flour (11 or 00 is best). Use 100 grams of flour per 1 egg. For 2-3 people, follow the 1 egg per person rule. Cut back on the quantity as you increase the number of people-for instance, 4 eggs for 5-6 people. Put both flours into a bowl or on the counter. Mix. Make a well in the center of the flour, and crack your eggs into the well. Take your fingers and break up the yolks. Begin to move your fingers around in a circular fashion, slowing drawing in the flour. After the flour is incorporated, you need to knead. Knead on a floured surface until the dough is smooth. If too sticky, add more flour. When needed, cover with a towel and let rest a while, maybe 30 minutes. When ready to roll out pasta, cut dough into smaller pieces. Roll twice on #1 setting, then once on each number after that. For most doughs, go to 6 or 7. (Although, for this, I just went to a 5 setting.)
'OPEN' RAVIOLO WITH HARE AND JUNIPER BERRY RAGU (serves 4 as main and 6 as an appetizer)
Ingredients:
1/2 pound to 1 pound of Lidia's Poor Man's Pasta Recipe (for Raviolo's)
1/2 rabbit, cut up into chunks using a cleaver/heavy knife
1/2 cup flour
4 cloves of garlic, smashed with back of knife
1 onion, finely diced
1 teaspoon dried juniper berries
1/4 cup or 4 tablespoons white wine
2 sprigs (each) of rosemary and thyme, bruised with the back of a knife
1 cup passata or crushed tomatoes
1 cup of chicken or rabbit stock
3 tablespoons good extra virgin olive oil
salt and freshly ground black pepper
What to do:
Dredge rabbit pieces in flour and saute in olive oil in a deep saute pan or dutch oven until all sides are well browned.
With a slotted spoon, remove rabbit to a plate and add the onions to the oil and, on medium-low, allow them to sweat for at least 5-8 minutes until translucent. Add the garlic and cook for another 3 to 4 minutes.
Add the reserved rabbit pieces back to the pan and then deglaze with white wine. Scrape up any bits that accumulated on the bottom of the pan. When the wine is reduced by half, add juniper berries and the herbs.
When the pot is almost completely dry (all liquid has been absorbed), add the passata/tomatoes and the chicken stock. Stir well and bring to a simmer. When it comes to a simmer, put lid on and cook for 45 minutes to 1 hour.
While rabbit is simmering, make your pasta. Allow the strips of pasta to dry on a well-floured surface until the rabbit is ready.
After 45 minutes , remove the lid off your ragu and simmer uncovered for another 30 minutes or until the sauce has become thick.
Turn off the stove and remove the rabbit pieces with a slotted spoon and allow to cool in a bowl. While that is cooling, bring salted water to a boil in order to cook your pasta.
Once the rabbit is cool, you will use your fingers (instead of the 1st way we tried with two forks which is not easy) to remove any pieces of bones that are on the rabbit meat. Because it has been cooked for so long, it should come off very, very easily. Make sure you get ALL the bones! You don't want your guests choking or their mouths being cut up, unless, of course, you do.
Stir your meat back into the ragu. Remove the rosemary twigs. Add some salt to taste and freshly ground black pepper.
Slice your pasta sheets into 6-inch squares and cook in the boiling water until they come to the surface (about 2 minutes). Drain.
Time to plate – add a pasta square on the bottom, top with a big spoonful of the rabbit ragu and a drizzle of olive oil. Top with another pasta square and a smaller spoonfull of the the ragu. Again, drizzle a bit of olive oil on top along with some ground pepper and anything green (chives, parsley, basil, thyme, etc.). Serve with a delicious vino and settle into a satisfying meal. ***NOTE: Feel free to use another thick and hearty pasta with this dish like pappardelle or tagliatelle.