HAWKES WINERY, HEALDSBURG, CALIFORNIA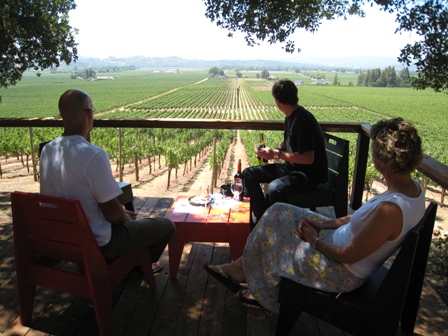 I thought I would do some posts about some of the different wineries we have visited in California. One of the wineries where we had a lot of fun (besides enjoying the wines) was Hawkes in Healdsburg. The winery is a small, family run winery. They have been growing grapes in the Alexander Valley for more than 30 years. They now own and farm three vineyards, all planted on sparsely soiled hillsides, and all yielding small amounts of highly intense fruit. Their wines don't always get high reviews because they are not the style that is so popular in California right now (ultra ripe, high alcohol content, etc.). Instead, their wines have more balance and are very food-friendly. They do currently have a 2004 Cabernet Sauvignon that was rated 92 by Wine Enthusiast. I can say, we loved that wine. Most of their wines are also very affordable. This 2004 cab is just $40. They also do Chardonnay and Merlot.
When we visited the winery, we were taken there by our limo driver (we were celebrating our 25th anniversary). We met Jeremy at the tasting room, but then we drove to the top of one of their vineyards. They had recently built a deck there, for special tastings. Jeremy is a high school friend of one of the owners. He's fun, and knowledgeable. The photos here were all taken from the deck where we enjoyed the wonderful views, weather, and wine.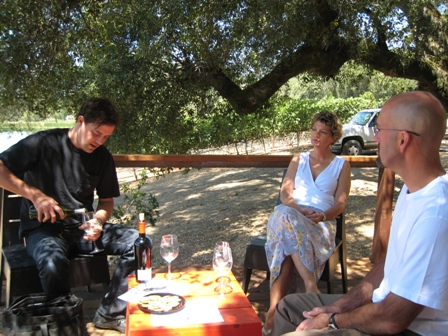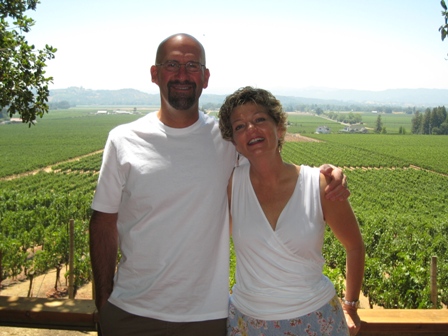 Check out their website. They have some very interesting videos on there about the wine-making process. Also, if you like wine clubs they have a nice one. They don't have a large selection of wines, but we really enjoy them(we do the red only shipment), and shipping is FREE. That is huge when shipping to Alaska. Not only is shipping free for the wine club shipment, but if you belong to the wine club, any orders you place will be shipped free. We recently ordered a case of wine, and UPS destroyed the case in shipping. Jeremy sent me an e-mail that UPS had contacted him, and then said he would expedite a new shipment out to me immediately. Great service. And at Christmas, I received a small box from them that contained some Butterscotch Brownies to say thanks for the business. A nice touch from a small winery.