WHAT TO DO WHEN THE WEATHER GETS WARM AFTER A VERY COLD SPELL-GRILL OF COURSE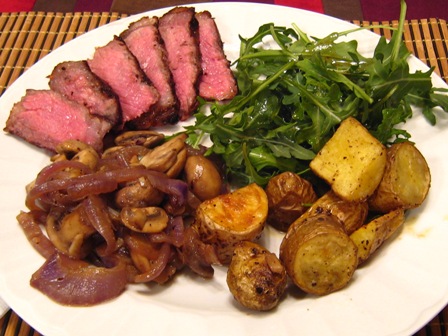 Anchorage has had a very brutal cold spell. It was -16F for about 2 weeks at my house, and even colder in other areas. But then last week, things changed. We got what they call the "pineapple express"-warm weather and lots of wind. We had record highs, and for 3 days school was even cancelled, which never happens here. Last Wednesday when things warmed up, the streets, parking lots, driveways, etc. turned into ice skating rinks. And then the rain began-pouring rain! Saturday the wind stopped for the day, and we decided to pull out the grill. I rarely eat beef, but what better way to take advantage of the grill than a nice New York strip. I just rubbed it with olive oil, and sprinkled liberally with course salt and coursely ground pepper. Served with roasted fingerling potatoes, and sauteed mushrooms and onions, it was great. And of course we had to have a fabulous cabernet from Hawkes winery to go along. This was enough to remind me that spring will be here in a few months….
Note: I forgot to publish this, and since then the warm spell has left us. Not as cold as it was though-it's now in the high teens, low 20's. But the sun has been out the last few days, so it's been a nice change from the gray cloudy skies we've been seeing.