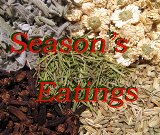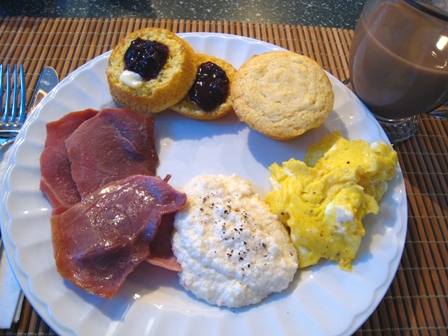 This year I participated in the Second Annual Season's Eating's Secret Gift Exchange, hosted by Kate of Thyme for Cooking. Season's Eating's is a 'secret' spicy/foodie gift exchange to celebrate the Holiday Season. Each person sends a small gift of a local herb, spice, or other food that is unique to or characteristic of where they live, along with a recipe using it, to a fellow foodie.
When you receive your parcel, you can either use your 'gift' in the recipe included, another of your choosing or just snap a photo of your new treasure. Then you do a post about it…
To participate, we sent Kate our address. She then drew names and sent e-mails to each of us and let us know who they were to send a gift to.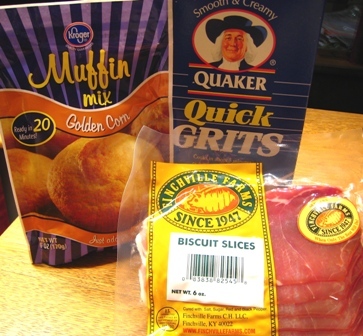 I recieved a package from Barbara in Louisville, Kentucky. Barbara sent the makings for a Southern breakfast-corn muffin mix, grits, and country ham. Sunday morning I made my husband and I a very fattening, filling breakfast – scrambled eggs, cheese grits, fried ham, and corn muffins with butter and homemade jams (raspberry and blackberry-strawberry). While the breakfast was good, I sure couldn't eat like that every day. The sodium content of the ham was through the roof, and the fat content was enough to keep me full until dinner.
This was a fun holiday exchange. It's fun to see what food items are popular in other parts of your country or other parts of the world. Thanks, Kate!