SUNDAY SLOW SCOOPERS – GREEN APPLE AND SPARKLING CIDER SORBET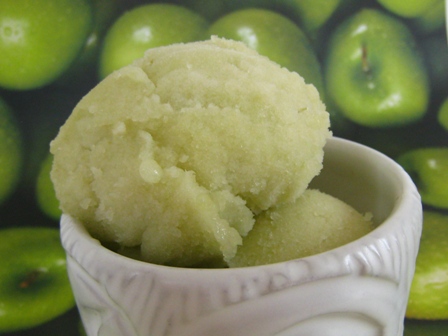 This week the Sunday Slow Scoopers selection was a Green Apple and Sparkling Cider Sorbet. I was looking forward to having a selection that wasn't full of eggs and cream. The recipe calls for Granny Smith apples. The process is to cook them in the sparkling cider and a small amount of sugar, leaving the skins on for more flavor. Then the apples are pressed through a food mill, leaving their skins behind. A small amount of lemon juice is added, and I added a little brandy (2 tsp). That mixutre goes into the fridge to cool, then is churned in the ice cream maker. The flavor of the sorbet is that of the apples you use. Although the flavor and texture were very good, I would prefer a small amount of this, and would prefer it as a palate cleanser in between courses. It would be a great addition to your Thanksgiving menu.
GREEEN APPLE AND SPARKLING CIDER SORBET Makes about 3 cups
4 Granny Smith or green pippin apples
2 cups sparkling dry apple cider, with or without alcohol
1/3 cup sugar
1/2 cup water
1/2 teaspoon freshly squeezed lemon juice, or to taste
Quarter the apples and remove the cores and seeds. Cut the unpeeled apples into 1″ chunks.
Combine the cider, sugar, and water and bring to a boil in a medium, nonreactive saucepan. Add the apples, reduce the heat to low, and cover. Simmer the apple chunks for 5 minutes, then turn off the heat and let the apples steep until the mixture is room temperature. (**NOTE: I cooked my apples closer to a 1/2 hour, as I don't have a food mill and I pushed them through a sieve and I needed the apples to be soft to be able to do that.)
Pass the apples and their liquid through a food mill fitted with a fine disk, or use a course-mesh strainer and press firmly on the apples to extract their pulp and all the liquid into a container. Discard the apple peels. Add the lemon juice. Taste and add more if you wish, since sparkling ciders can vary in sweetness. (NOTE: the mixture comes out yellow, not green, so I added a couple of drops of green food coloring to make a very faint green color.)
Chill the mixture thoroughly, then freeze it in your ice cream maker according to the manufacturer's instructions.