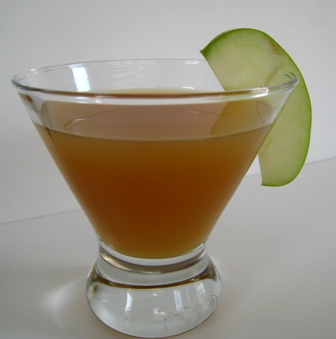 I was having friends over last weekend, and I wanted to start off with cocktails. I'm a wine drinker, and I rarely fix any type of a mixed drink. So where do I go to find good cocktail recipes? To Jerry's blog. He posted about an Orchard Martini last week that sounded like a great cocktail for fall. So I used his recipe and they were delicious. Of course I had to go to the liquor store first for Vodka and sour apple liquer and then I made a visit to Target(Alaska's first Target just opened last week) to purchase some new cocktail glasses. I had two of the martinis before our friends even arrived. Maybe I'll have to start having a cocktail before dinner more often!
Jerry's Orchard Martini
1 1/2 oz Vodka
3/4 oz sour apple liquer
3 oz apple cider
Pour all into a shaker with ice and shake, then strain into a martini glass. Garnish with a slice of apple.