SUNDAY SLOW BAKERS-CINNAMON ICE CREAM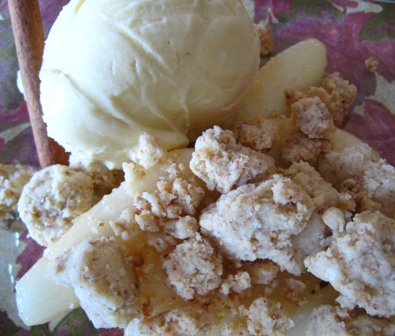 Okay, I'm a week late with this post. I was out of town last week, and had a busy week at work and couldn't find the time to make ice cream. But the weekend is here, I'm craving ice cream, and I just had to try the cinnamon ice cream (my husband was also looking forward to it). I guess I will miss the choice for this week, which is an unusual Roquefort-Honey Ice Cream, because I just cannot afford the calories that are involved with two ice creams in a week.
This recipe called for steeping broken cinnamon sticks in the warm milk/cream mixture for 1 hour. I got busy making my recipe for this week's Daring Bakers Challenge, and forgot about the ice cream. So it steeped for over 3 hours. This ended up being a good thing. The cinnamon flavor is very pronounced, but not overwhelming. The ice cream is very creamy and rich. I will be making this again. With apple pie, apple dumpling, apple cake, etc.
CINNAMON ICE CREAM Makes about 1 quart
1 cup whole milk
3/4 cup sugar
Pinch of salt
Ten 3″ cinnamon sticks, broken up
2 cups heavy cream
5 large egg yolks
Warm the milk, sugar, salt, and cinnamon sticks and 1 cup of the cream in a medium saucepan. Once warmed, remove from the heat, and let steep at room temperature for 1 hour.
Rewarm the cinnamon-infused milk mixture. Remove the cinnamon sticks with a slotted spoon and discard them. Pour the remaining 1 cup cream into a large bowl and set a mesh strainer on top.
In a separate medium bowl, whisk together the egg yolks. Slowly pour the warm mixture into the egg yolks, whisking constantly, then scrape the warmed egg yolks back into the saucepan.
Stir the mixture constantly over medium heat with a heatproof spatula, scraping the bottom as you stir, until the mixture thickens and coats the spatula. Pour the custard through the strainer and into the cream. Stir until cool over an ice bath.
Chill the mixture thoroughly in the refrigerator, then freeze it in your ice cream maker according to the manufacturer's instructions.
I served the ice cream with a pear dessert. This was an adaptation of something I saw on Food Network. There is a Streusal Topping, and a separate Pear/Honey Mixture. Just sprinkle the streusal on top of the cooked pairs. I think this will be a great thing to keep in the freezer for when you need a quick topping. And no rolling out of dough! The topping tastes like a very sweet shortbread cookie.
Streusel Topping
1 stick unsalted butter
1 cup all-purpose flour
1 cup powdered sugar
Pinch of salt
1 cup ground almonds
Mix together the flour, sugar, salt, and almonds and set aside. In a large skillet, melt the stick of butter. Add the flour mixture, and stir until it is incorporated and small clumps form. Turn this out onto a baking sheet, and gently shake to spread evenly. Bake at 350 degrees until lightly browned, 15 to 20 minutes. Set aside to cool.
Pear/Honey Mixture
4 pears, peeled, cored, and sliced
1/2 cup honey
1/2 teaspoon almond extract
Heat honey in a large skillet. Turn heat to low, and simmer until honey is lightly browned, about 15 minutes. Stir in almond extract. Add pears, and saute until pears are beginning to soften. This will depend on how ripe your pears are. Maybe 5 to 15 minutes.
For serving, place some pears/honey mixture on a place or in a bowl, and sprinkle streusel topping over. Serve with ice cream or whipped cream.