SUNDAY SLOW SCOOPERS-TIRAMISU ICE CREAM (AND TRIBUTE-TO-KATHERINE HEBBURN BROWNIES)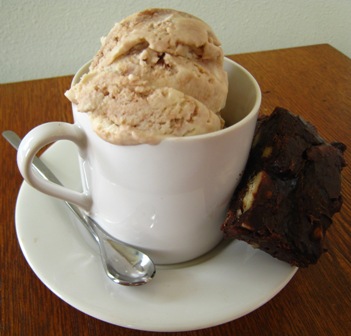 This week, Krista chose Triamisu for our ice cream choice of the week. I am really liking David Lebovitz's book "The Perfect Scoop". The ice creams I have tried are all great. I was really looking forward to this one, because when my husband and I were in Italy last year, Tiramisu was his favorite flavor. This was expensive to make, at least to purchase the ingredients here in Alaska. One package of mascarpone cheese was over $5, and I needed two. So that, along with the half and half, and the Kahula, did add up, but it was worth it. If you like mascarpone cheese, you will love this ice cream. It tastes just like regular Tiramisu. It was very quick and easy to make, since there is no cooking (except for the Mocha Ripple). When churning in my Kitchenaid ice cream maker, the base didn't freeze up as hard as it normally does, so it did need to freeze overnight before serving.
I wanted to make something chocolatey to go with this ice cream, and chose a recipe for brownies from Dorie Greenspan's Baking from my home to yours. It is said that these brownies are similar to ones made by Katherine Hepburn, and that the key is to use just a small amount of flour. I loved the flavor (they contain some cinnamon), and they were very soft and gooey, almost like a fudge. I cooked them for 30 minutes as called for, but next time will cook for at least 5 minutes longer-the middle ones couldn't even be served as a brownie, as you had to scoop them up with a spoon! Served cold from the fridge, they were almost like fudge.
TIRAMISU ICE CREAM Makes about 1 1/4 quarts
2 cups mascarpone
1 cup half and half
2/3 cup sugar
Pinch of salt
1/4 cup coffee-flavored liquer, such as Kahlua
3 tablespoons brandy or dark rum
Mocha Ripple(see below)
Puree the mascarpone, half and half, sugar, salt, liqueur, and brandy together in a blender or food processor until smooth and the sugar is dissolved. Chill thorougly in the refrigerator.
Freeze in your ice cream maker according to the manufacturer's instructions. As you remove it from the machine, alternate layers of Mocha Ripple with the frozen ice cream in the storage container.
MOCHA RIPPLE
1/2 cup sugar
1/3 cup light corn syrup
1/2 cup strongly brewed espresso (or use 1/2 cup water and stir in 1 Tablespoon best-quality instant coffee granules after you boil the mixture)
6 Tablespoons unsweetened Dutch-process cocoa powder
1/2 teaspoon vanilla
Whisk together the sugar, corn syrup, water, and cocoa powder in a medium saucepan. Heat over medium heat, whisking constantly, until the mixture begins to bubble at the edges.
Continue to whisk until it just comes to a low boil. Cook for 1 minute, whisking frequently. Remove from the heat, stir in the vanilla, and let cool. Chill in the refrigerator before using.
TRIBUTE TO KATHARINE HEPBURN BROWNIES
1/4 cup all-purpose flour
1/2 tsp ground cinnamon(optional)
1/4 tsp salt
1 stick (8 tablespoons) unsalted butter, cut into 8 pieces
1/2 cup unsweetened cocoa powder
2 tsp finely ground instant coffee
2 large eggs
1 cup sugar
1 tsp pure vanilla extract
1 cup chopped walnuts or pecans
4 oz bittersweet chocolate, coursely chopped
Put oven rack in middle of oven and preheat oven to 325 degrees. Butter a 8″ square pan and line the bottom with parchment paper. Butter the paper, dust the inside of pan with flour, and tap out the excess. Place pan on a baking sheet.
Whisk flour, cinnamon, and salt together.
Put the butter in a med saucepan and place over low heat. When butter starts to melt, sift the cocoa over it and add the instant coffee. Continue to cook, stirring, until the butter is melted and the cocoa and coffee are blended into it. Remove from heat and cool for about 3 minutes.
Using a whisk or rubber spatula, beat the eggs into the saucepan one at a time. Next, stir in the sugar and vanilla(don't beat too vigorously), followed by the dry ingredients, nuts and dropped chocolate. Scrape the batter into the pan.
Bake for 30 minutes, at which point the brownies will still be gooey but the top will have a dry papery crust. Transfer the pan to a rack and let the brownies cool for at least 30 mintues.
Turn out onto a rack, peel away the paper and invert onto a cutting board. Cool completely before cutting into 16 squares, each approx. 2″ on a side.