SUNDAY SLOW BAKERS-TOASTED ALMOND GELATO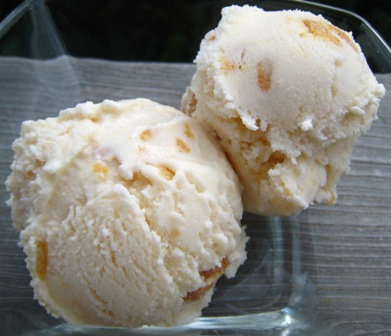 This is the last week that the Sunday Slow Bakers will officially be cooking from Dolce Italiano, the wonderful dessert cookbook written by Gina DePalma. I know that all of us have really enjoyed the recipes we have tried, and have enjoyed feeling like we have gotten to know Gina a little through her writings and recipes. I will continue to try new recipes from the book I have as of yet to make, and will continue to make recipes I've tried and loved, such as the Lemony Semolina Cookies and the Sicilian Pistachio Bars to name just two.
As we transition to our next book, The Perfect Scoop, and become Sunday Slow Scoopers, one of the members suggested that we try one of Gina's Gelato recipes. So this week I made Toasted Almond Gelato. This was a very easy recipe to make. I did make one change from the recipe. I had some leftover Almond Praline Paste that was used in my Swiss Buttercream from my Daring Bakers challenge, so I added that to the mixture at the end. This was a great gelato. It has a really nice almond flavor. Also, because it does not contain egg yolks, it is less rich than many of the ice creams I've made. The addition of the Praline Paste made it even better-with the bits of that intense praline flavor throughout, heightening the almond flavor even more. Dig out your ice cream makers and give this a try, and get ready for more great ice cream, gelato, and sorbet recipes to come.
TOASTED ALMOND GELATO Makes about 2 cups
gelato di mandorle
1 cup sliced blanched almonds
1 cup heavy cream
1 1/2 cups whole milk
1/4 cup plus 1 tablespoon granulated sugar
1 heaping tablespoon flavorful honey, such as clover or millifiori
Pinch of kosher salt
2 teaspoons amaretto
1/4 teaspoon pure almond extract
Preheat oven to 375 degrees. Spread the almonds in a single layer on a clean baking sheet and toast them for 12 to 14 minutes, or until they are golden brown and aromatic.
Remove the almonds from the oven and place them in a medium saucepan. Add the heavy cream, milk, sugar, and honey and place over medium heat, stirring occasionally.
When the mixture comes to a boil, remove the saucepan from the heat and set aside to infuse the liquid with the flavor of the almonds.
Allow the mixture to cool to room temperature, then strain it through a chinois ro fine-meshed sieve and discard the almonds. Stir in the salt, amaretto, and almond extract.
Chill the gelato thoroughly in a covered container, at least 3 to 4 hours. Freeze it in an ice cream maker according to the manufacturer's instructions.