LAMB BURGER PITAS WITH GOLDEN BEET AND ORANGE SALAD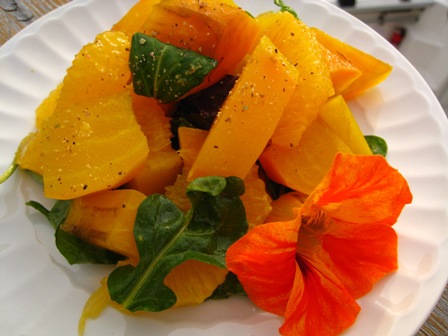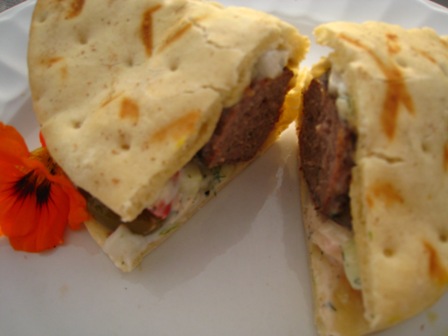 As I was flying home from Fairbanks this evening, I was thinking about what I would make for dinner. It had been a beautiful day in Fairbanks, and even though I thought it was cloudy in Anchorage, I thought it might be a good night for grilling. I remembered when I read Jerry's posting about Grilled Lamb Burger Roll-ups. I didn't have the recipe with me, so just guessed what was in them as I stopped at the store on the way home. I did buy a few wrong items, so changed the recipe some. Instead of cracker bread or flour tortillas, I used Greek-syle soft pitas. So these were more like gyros. Also, I didn't use hummus or spinach. I used some peppers from the olive bar, a mixture of feta/olives, and also made some tziki (yogurt, onion, cucumber, dill, salt, pepper). These had great flavor, were fast, and were something different than I've ever made. I will most certainly be making them again.
I also wanted to serve a salad, and last week I recieved Golden Beets in my CSA shipment. So I drizzled the unpeeled beets with a little olive oil, and wrapped them up in foil, and roasted them at 400 degrees until soft. I then sectioned a couple of oranges. I used the juice squeezed from the orange membranes, along with a little clementine olive oil and white balsamic to make a dressing. Mixed the orange sections, roasted beets, a little arugula, and the dressing for a nice salad.
Here's Jerry's recipe, which was from an old Better Homes and Garden magazine.
Grilled Lamb Burger Roll-Ups
1 beaten egg
3 tablespoons fine dry bread crumbs
2 tablespoons snipped fresh oregano
2 cloves garlic, minced
3/4 teaspoon salt
1/2 teaspoon freshly ground pepper
1 pound lean ground lamb
2 14- to 15-inch soft cracker bread rounds or four 7- to 8-inch flour tortillas
1/3 cup prepared hummus (garbanzo bean spread)
4 cups torn spinach or red-tipped leaf lettuce
1/4 cup crumbled feta cheese
3 tablespoons sliced pitted kalamata or ripe olives
In a large bowl combine egg, bread crumbs, oregano, garlic, salt, pepper, and 1 tablespoon water. Add lamb; mix well. Form into eight 4-inch-long logs.
Grill lamb on the rack of an uncovered grill directly over medium coals for 14 to 18 minutes or until lamb is no longer pink, turning once.
Meanwhile, spread the cracker bread or tortillas with hummus. Sprinkle with spinach or lettuce, feta cheese, and olives. If using cracker bread, place 4 lamb pieces, end to end, near an edge of each round. Roll up, beginning with edge closest to lamb. Slice each roll-up diagonally in fourths. (If using tortillas, place 2 lamb pieces, end to end, on each tortilla. Roll up. Slice each roll-up diagonally in half.) Makes 4 servings.