SUNDAY SLOW BAKERS-ALMOND FINGERS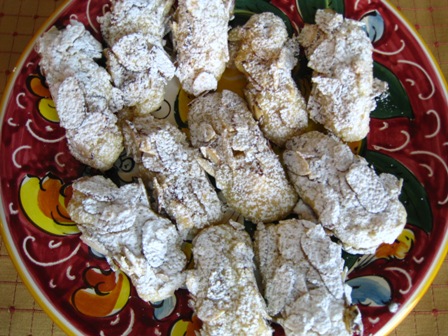 It's time for another Sunday Slow Bakers recipe from Dolce Italiano by Gina DePalma. For those of you who are new to my blog, I'm participating with a group of other bakers who frequent the www.slowtrav.com board and decided to start a baking group. We picked a cookbook to start with, and then each week one member chooses a recipe from that book. We all make the same recipe, then on Sunday we all post our results. This has been such a fun process. I am notorious for buying lots of cookbooks, and either never cooking from them or making one or two recipes and that's it. I think this has been the most I've ever made from one cookbook.
Okay, back to the recipe.
ALMOND FINGERS (ditti di mandorle)
Makes approx. 4 dozen cookies
2 cups unbleached all-purpose flour
3/4 cup almond flour
1/4 tsp baking powder
1/2 tsp kosher salt
1 cup (2 sticks) unsalted butter, softened
1 cup granulated sugar
1 large egg, separated
Freshly grated zest of 1 lemon
1 tsp pure vanilla extract
2 cups sliced blanched almonds
Confectioner's sugar, for dusting
In a medium bowl, whisk together the all-purpose flour, almond flour, baking powder and salt and set aside.
Using an electric mixer fitted with the paddle attachment, beat together the butter and granulated sugar on medium speed until light and fluffy, about 2 minutes. Beat in the egg yolk, followed by the lemon zest and vanilla extract, scraping down the sides of the bowl after each addition. Beat in the dry ingredients on low speed to make a stiff dough. Remove the dough from the bowl, flatten it into a disk, wrap it in plastic, and chill until firm enough to roll, about 1 hour.
Preheat the oven to 325. Lightly grease two baking sheets with nonstick cooking spray or butter or line them with parchment paper.
Place the almonds in a shallow bowl. In another shallow bowl, lightly beat the egg white with a fork until frothy.
Divide the dough into 3 equal pieces. Work with 1 piece at a time, keeping the other portions wrapped and refrigerated. Roll the piece of dough into a narrow log 1/2 inch in diameter. Cut the log into cylinders about 1 1/2 inches long. Roll each cylinder in the beaten egg white, then in the sliced almonds to coat it completely. Place the cookies on the prepared sheets, spacing them evenly, about 1/2″ apart. Repeat with the remaining portions of dough.
Bake the cookies until they are firm and the almonds are lightly golden brown, 14 to 16 minutes, rotating the sheet 180 degrees halfway through the baking time to ensure even browning. Allow the cookies to cool on the sheets for 1 or 2 minutes, then use a spatula to remove them gently to a wire rack to cool completely. Dust the cookies generously with confectioners' sugar.
The cookies can be stored in an airtight container, layered between sheets of parchment paper, in a cool, dry place for up to 4 days.
Let's see…I liked the flavor of the cookies, but had enough trouble with the dough that I'm not sure I would make this recipe again, at least not without a little tweaking. I chilled the dough for a little over an hour, but when I went to roll the dough into logs, it just wouldn't hold together well. I basically had to reroll each piece after I cut it off the log. I wonder if this affected the texture of the cookies, by overworking the dough, as they weren't as tender as I would have liked. As I dipped the cookies into the egg whites, the egg white was all used before I finished rolling all of them. I ended up having to use 3 egg whites to dip all of the cookies. I also needed more almonds, maybe about 2 1/2 cups total. My cookies baked for about 17 minutes before they were lightly browned.
There was another thing I did different, again which could have affected the texture, but I don't think so. I couldn't find any almond flour. So I made my own by processing in a food processor 3/4 cup slivered almonds along with 2 tablespoons of the flour. It did not get pasty or oily, and processed into a nice fine flour consistency.
I enjoyed the cookies more on the second day, as the texture was better. They're not a crisp cookie, the way a Mexican Wedding Cookie is, but a softer texture. Probably because of the ground almonds. I also found the outside of the cookies a little tough because of the amount of egg white that stuck to the cookie. Maybe a little water mixed into the egg white might have made a little thiner consistency. All in all, the flavor of the cookies was good, and I like the unique look of them with the sliced almonds clinging to the outside, but I have enjoyed other cookies from this book more,like the Lemony Semolina Cookies and the Sicilian Pistachio Bars.
Okay, an update-it's Saturday morning now (I baked the cookies Thurs evening), and I just had two for breakfast (isn't that a healthy breakfast!) I've changed my mind about the cookies now-I really like them. The egg white toughness is completely gone, even though the sliced almonds stayed crispy. I guess this is a cookie that is better after a few days.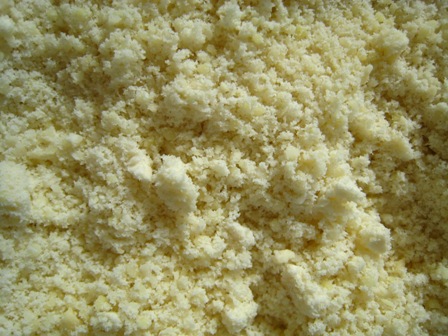 ALMONDS PROCESSED INTO A FLOUR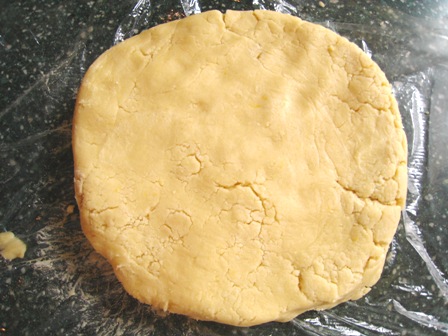 DOUGH FORMED INTO DISK BEFORE BEING CHILLED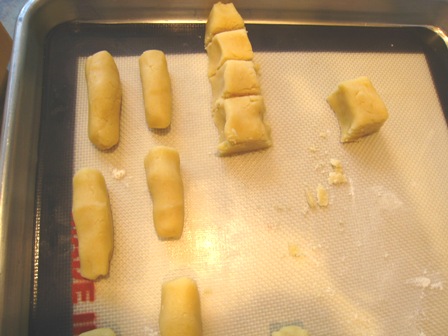 FORMING THE COOKIES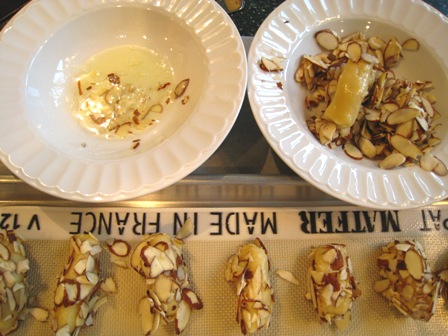 DIPPING THE COOKIES IN THE EGG WHITES AND SLICED ALMONDS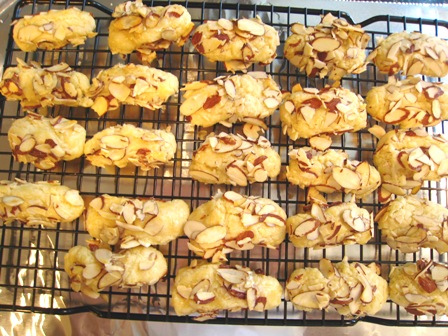 BAKED COOKIES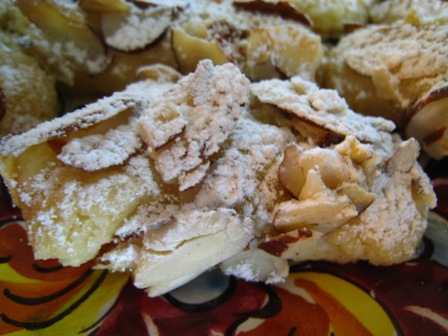 CLOSE-UP OF COOKIE