SALMON WITH SESAME AND ORANGE-GINGER RELISH AND CHEDDAR-CORN SPOON BREAD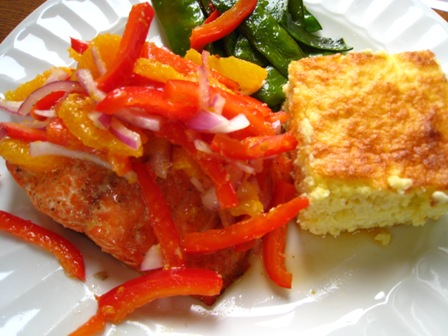 If you read my post from yesterday, you'll realize that we eat a lot of fish and shrimp. And even though I do try a lot of new recipes, I tend to most often fix those recipes that you come back to over and over (they're good, and also very simple). This weekend I organized the hundreds of recipes that I had printed off and had stuffed in folders here and there. I came across 2 recipes that I decided to try for dinner Sunday night-the Salmon with Sesame and Orange-Ginger Relish, and Cheddar-Corn Spoon Bread. They were both very good, and I will most definately make them both again in the future. The orange relish for the salmon was very flavorful with the sesame oil and they ginger. Nice contrast to the rich salmon. And the Spoon Bread was sweet from the fresh corn I used, with the tang of the sharp cheddar. Enjoy!
SALMON WITH SESAME AND ORANGE-GINGER RELISH Makes 8 servings
Adapted from epicurious.com
1/3 cup dry white wine
1/3 cup fresh orange juice
1 1/2 Tbsp soy sauce
1 2 1/2 lb. salmon fillet
3 large navel oranges
1/2 cup matchstick-size strips red pepper
1/2 cup thinly sliced red onion
2 1/2 Tbsp chopped fresh cilantro
2 tsps minced peeled fresh ginger
2 tsps grated orange peel
1 tsp oriental sesame oil
1/2 tsp coarse kosher salt
1/4 tsp dried crushed red pepper
Vegetable oil
1 Tbsp sesame seeds, toasted
Whisk first 3 ingredients in small bowl to blend; transfer to 13x9x2″ glass baking dish. Place salmon, skin side up, in orange juice mixture;cover with plastic and chill at least 2 hours and up to 4 hours. Bring to room temp 30 minutes before cooking.
Using small sharp knife, cut peel and white pith from oranges. Working over bowl, cut between membranes to release segments into bowl.
Mix red pepper and next 7 ingredients in med bowl to blend. Fold in reserved orange segments and any accumulated juices. (Can be prepared 1 hour ahead. Let stand at room temp.)
The recipe calls for brushing with oil, placing skin side down, sprinkling with salt and pepper, and baking on a baking sheet, in a preheated 400 degree oven until opaque in center, about 20 minutes. Instead, I put mine skin side down on foil, folded the edges of the foil up to make a little tray, poured some of the marinade over, and placed on a hot grill and cooked until just done. Don't overcook salmon or it gets too dry. Then just slide a spatula between the fish and the skin and your fish comes right off and the skin sticks to the foil. Place on a platter, and mound the orange relish down the center of the fish, then sprinkle with the sesame seeds.
CHEDDAR-CORN SPOON BREAD Serves 6
From Everyday Food
1 Tbsp unsalted butter, plus more for baking dish
2 cups milk (I used 2%)
1 1/2 cups corn kernels, fresh or frozen, defrosted (I used fresh, and the crunchy texture was great)
2/3 cup yellow cornmeal
Coarse salt
Pinch of cayenne pepper
1 cup finely grated sharp white cheddar cheese
4 large eggs, separated
1. Preheat oven to 400. Butter a 2 quart souffle or casserole dish;set asid. In a med saucepan, combine butter, milk, corn, cornmeal, 1 tsp salt, and cayenne. Bring to a boil;reduce hear to med, and simmer, stirring frequently, until mixture is slightly thickened, 3 to 4 mintues. Remove from heat; stir in cheese. Let cool until just warm to the touch, about 15 minutes. Stir in egg yolks until combined.
2. In a clean mixing bowl, beat egg whites with a pinch of salt until soft peaks form. Stir one-third of the whites into the cornmeal mixture until combined, then gently fold in the remaining whites with a rubber spatula. Pour into prepared dish.
3. Place dish in oven; reduce oven heat to 375. Bake until browned on top but still slightly loose in the center, 25 to 30 minutes. (I cooked mine about 35 minutes.) Let cool 5 minutes before serving.