I'm back from my meeting in Vegas, and unfortunately, I caught a cold or something while there and I'm at home today with the worst sore throat I think I've ever had. And it's not even noon, and I've gone through almost a box of Kleenex.
As I was there for a large meeting with the company I work for, all of our meals except for one were provided. We had one night that we were on our own for dinner. I went with a group of 8 to Tao in the Venetian Hotel for dinner. I didn't know many of the people I was with, and unfortunately, as I was afraid, they didn't all have adventurous tastes in food. They were willing to share appetizers, but most wanted to order their own entree. Tao does suggest that you share all of your plates and let your server guide you to the best choices, which is what I prefer to do since you can taste so many more things.
My favorite appetizer was the Kobe Tartare Tempura. A great combination of textures, flavors, and even temperatures. Order this if you go there.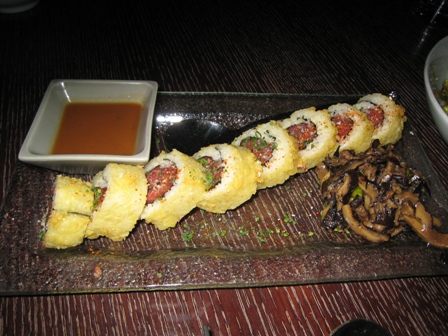 Another appetizer we shared was the Pork Spring Roll with Thai Chili Sauce. I thought this was just okay-the taste was good, but the wrapper got very hard during its frying and I just didnt' enjoy the texture. Instead of being crispy it was just hard.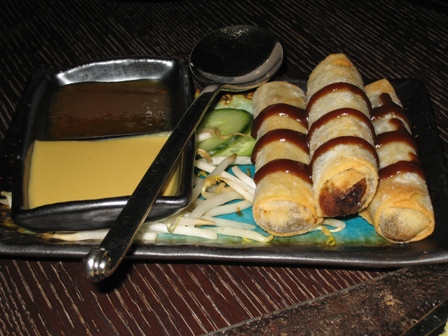 We also shared Edamame, Roasted Shishito Peppers with Yuzu, Satay of Chicken with Peanut Sauce, and Squab Lettuce Wraps.
One of the other ladies and I decided we would share our entrees. We ordered Grilled Rare Tuna with Asian Green Stir Fry and Peppercorn Sauce and Miso Glazed Chilean Sea Bass with Wok Vegetables. The Miso Glazed Sea Bass is supposed to be their most popular fish dish. It was excellent. I've got many copies of the recipe I've printed and wanted to try of this entree and never have. I will have to make it now for sure. The fish was extremely moist and tender prepared in this fashion, with a very nice, but not overpowering flavor from the miso. The Tuna was also very good, but not as unique.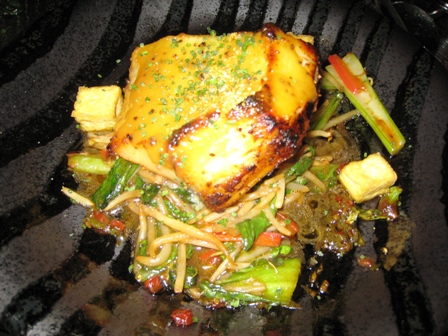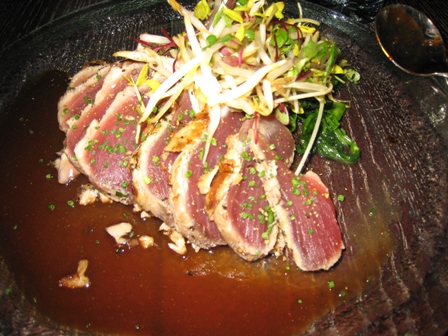 Other entrees for the group ranged from Wok-Seared New York Sirloin with Shiitake Mushrooms and Szechwan Potatoes to Kung Pao Chicken. After all of the appetizers we had, we were all too full for dessert and just opted for the chocolate fortune cookie they bring with the bill. I'm not sure what the total bill was, but we spent about $70 per person, and this included appetizers, entrees, and an average of 1 drink per person. While I did enjoy the food, and the presentation was very nice, I wouldn't rank it among the best food I've ever eaten, and if in Vegas again, it wouldn't be my choice as a place to go. This might be because while I like Asian food, it's not the first choice I would make. I would take Italian food as my first choice any day. The Tao Bar was closed the evening we were there (Wed), so we weren't able to go to what is supposed to be a hip fun club.