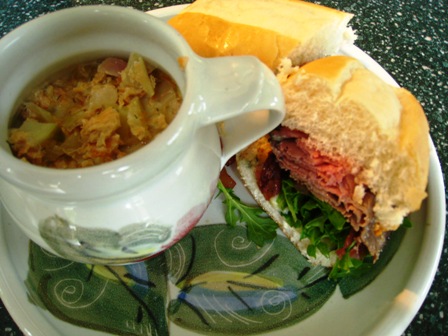 I was tired after a busy day down on the Kenai Peninsula for work, but also feeling like I wanted something more than veggies for dinner. I knew I had gorgonzola cheese I needed to use, and a large red onion, potatoes, and fennel from my CSA shipment. The summer that I thought had finally arrived the day before was gone in a flash, and it was a cold overcast day. With that, a bowl of soup sounded good. So I decided to make a salmon chowder and roast beef, gorgonzola, and carmelized onion sandwich.
I don't have a recipe for the soup, but here's what I do. I saute chopped onions, and fennel in a little olive oil in a large sauce pan until just beginning to soften. I then add chopped potatoes, and continue to cook until they begin to soften(add a little water if needed to keep from sticking.) I season with a little dill, and salt and pepper. I added some sherry pepper sauce I had brought back from Bermuda, and then added a can of salmon I had canned last summer. After mixing together, I then add skim milk and some fat free half and half, enough to make into a soup consistency. Simmer until the potatoes are soft. That's it. I make this chowder quite a bit because it is low fat, and I always have canned salmon on hand. You could always saute a small amount of bacon with the onions, but I think it has a lot of flavor without it. I sometimes add corn, or red peppers, etc.
For the sandwiches, I first made the carmelized onions. Slowly cooked thinly sliced onions, balsamic vinegar, pinch of sugar, salt and pepper. I then split sour dough rolls, placed thinly sliced roast beef (the good kind from the deli) on one side, and gorgonzola on the other, and placed under the broiler until the cheese was melted. I then topped the beef with the carmelized onions, and baby arugula. I liked the combination of the salty from the cheese, the sweet and sour from the onions, and the peppery taste from the arugula. A satisfying dinner on a chilly evening.