It's been a cold spring in Alaska, and nothing in my garden/flower beds is doing well except for the weeds and the rhubarb. Since I've been baking so much with the Sunday Slow Bakers, I wanted to make something savory with the rhubarb. I remembered a recipe a friend gave me several years ago that combines pork chops with rhubarb.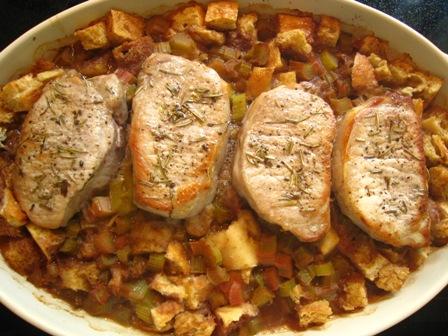 Pork Chops with Rhubarb Dressing
Serves 6
1/2 tsp dried rosemary
3/4 tsp salt
1/8 tsp pepper
6 pork loin or shoulder chops, cut 1″ thick
2 Tbsp salad oil
1/2 to 3/4 cup firmly packed brown sugar
4 slices firm-textured bread, cut into 1/2″ cubes
1/2 tsp ground cinnamon
1/4 tsp ground allspice
4 cup fresh rhubarb, cut into 1/2″ pieces
3 Tbsp all-purpose flour
Preheat the oven to 350 degrees.
Mix together rosemary, salt, and pepper;sprinkle evenly over pork chops on both sides. Heat the oil in a frying pan over med-high heat. Add chops and brown on both sides;set aside with drippings.
Stir together remaining ingredients. Spread half of this dressing in a greased 9″ x 13″ baking dish. Arrange chops on top. Spoon over 3 Tbsp of drippings(adding water if needed to make this amount). Top with remaining dressing. Cover. Bake for 45 minutes. Then uncover and bake 15 minutes longer or until tender.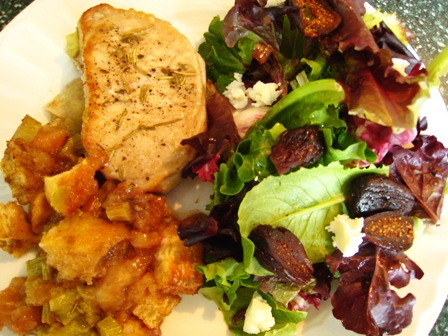 I served this pork with a fig, goat cheese, and mixed green salad, with a fig balsamic vinegar dressing.
The recipe is pretty forgiving. I didn't measure anything. I forgot to put in the flour, which was fine since I used less rhubarb and more bread than called for. The rhubarb can be pretty tart, and I don't care for the dressing to be overly sweet, so by using less rhubarb and more bread, I don't use quite as much sugar.