FIG AND PROSCIUTTO PIZZA AND ARUGULA SALAD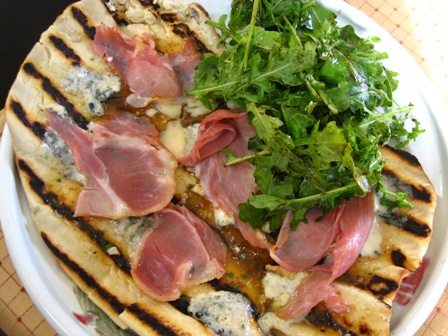 I received my July Food & Wine in the mail the other day, and one recipe that really caught my attention was Fig-and-Prosciutto Flatbreads. This is a thin pizza, whose crust is spread with fig jam, then topped with Gorgonzola cheese and prosciutto and baked. I just love the combination of sweet and salty together, and thought this would hit the mark. It did. I decided to grill the pizzas rather than bake them in the oven. I caught a quick look at Jerry's Thoughts, Musings, and Rants! blog and he made grilled pizza for dinner, and it looked so good that I thought I would try grilling this pizza. I made a variation of his dough, then followed the directions for making the pizza except I placed a rolled out piece of dough onto a hot grill for a couple of minutes to cook one side, then pulled it off the grill, and added the toppings to the cooked side, then put it back on the grill to finish cooking the other side and the toppings. It definately takes a watchful eye, and even at that, you get a pretty charred crust. But it didn't really taste burnt, and made the crust very crisp, and was very tasty. Just be sure as I mentioned to keep your eye on things, as it cooks very quickly. Also, I didn't weigh the dough to see how much I had. I thought I had less than called for, so I didn't measure the ingredients for the pizza, just guessed at what the correct quantity would be.
I served this pizza with a salad of arugula that I tossed with Date Balsamic Vinegar, olive oil, sea salt, and freshly ground pepper. The peppery arugula went great with this rich pizza.
And to top off the evening, the sun came out(well, kindof) and we were able to eat on the deck (unfortunately the mosquitos were quite thick tonight, so we didn't last outside too long). Here's my dear husband enjoying the dinner.


PIZZA DOUGH
1 Tbsp honey
2/3 cup warm water
1 envelope active dry yeast (I used rapid rise)
2 Tbsp olive oil
pinch of salt
1 1/2 cups all-purpose flour
In a large bowl, dissolve the honey in the warm water. Sprinkle the yeast on top and stir until dissolved. Whisk in the oil. Mix the salt into the flour, and stir into the yeast mixture. Knead until the dough is smooth. Cover and let rest about 30 minutes. Then knead again on a floured surface until smooth and elastic. Place back in a greased or floured bowl and cover again, and let rise until doubled in volume (up to an hour, faster if using rapid rise yeast).
Fig and Prosciutto Flatbreads
Makes two 13″ round flatbreads
From July 2008 Food & Wine
Two 12-oz balls of pizza dough, at room temp
All purpose flour
1/4 cup extra-virgin olive oil
1 garlic clove, minced
1 teaspoon minced fresh rosemary
Salt and freshly gound pepper
1/2 cup fig jam
1/4 pound Gorgonzola cheese, crumbled (1 cup)
3 ounces sliced prosciutto
1 scallion, white and green parts thinly sliced
1. Place a pizza stone in the bottom of the oven and preheat the oven to 500 degrees. Allow at least 45 minutes for the pizza stone to heat thoroughly.
2. Meanwhile, on a lightly floured surface, roll out one piece of the pizza dough to a 13″ round. Dust a pizza peel with flour and slide the dough onto it. Drizzle with about 2 tablespoons of the olive oil and sprinkle with half of the garlic and rosemary. Season with salt and pepper. Dollop 1/4 cup of the fig jam all over the crust, being sure to leave a 1″ border of dough all around. Scatter half of the cheese and prosciutto over the dough.
3. Slide the flatbread onto the stone and bake for about 15 minutes, until puffed and golden. Transfer the flatbread to a cutting board and let cool for 10 minutes before slicing. Repeat with the remaining ingredients to make the second flatbread. Garnish with the sliced scallion and serve. Serve with a light, cherry-inflected Chianti Classico.
For dessert, we enjoyed the Strawberries in Chianti Wine with Ricotta Black Pepper Cream, which you'll read about on Sunday's blog.