I have decided to join that group of people know as bloggers. I didn't think that I would ever participate in this on-line endeavor, but then I joined a group known as the Sunday Slow Bakers. We choose a cookbook, then each week one person from the group chooses a recipe from that book. Sometime during the week we make the chosen item, then on Sunday we all blog about the results. Since I love to cook, and love to share food with others, I thought this would be a perfect way to do both.
The cookbook we began with is Dolce Italiano, by Gina DePalma. It is full of tempting desserts of all kinds. The first recipe I made was the Sicilian Pistachio Cookies, which I just loved. The next two weeks I was out of town on vacation and not able to participate. The choices, Babbo Breadsticks and Grappa-soaked Mini Sponge Cakes, were loved by all who did make them, so I will have to add them to my list to try at a later time. Sunday's choice was Biscotti di Limone e Semolina, or Lemony Semolina Cookies. These again were very good. The semolina gave a nice textural contrast to the flour. Then there was the lemon juice, lemon zest, and lemoncello liquor that added to a wonderful complex lemon taste. They were rolled in sugar, but still not overly sweet. Here's the final results: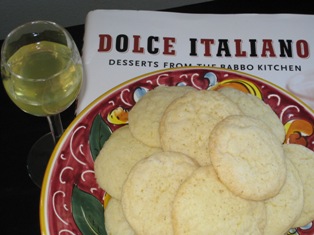 I'm now looking forward to next week's choice: Hazelnut and Grape Tart.