Island Pork Tenderloin Salad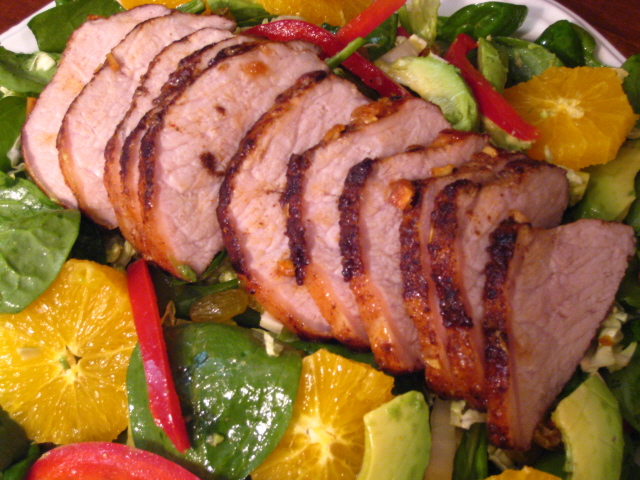 Tonight I wanted to fix a light dinner. I haven't fixed this salad in a while, but have always enjoyed it each time I've made it. It has a nice combination of spicy, sweet, and tangy. The pork is prepared in an unusual manner-it has a sugar mixture patted on the outside and baked. It seems like a lot of sugar, but a lot does melt and slide off during the baking. It is a great flavor combination with the brown sugar and tabasco (I know, it sounds odd!). The oranges in the salad just really make it sing with flavor. The recipe comes from Epicurious.com.
ISLAND PORK TENDERLOIN SALAD
For Pork:
2 tsp salt
1/2 tsp black pepper
1 tsp ground cumin
1 tsp chili powder
1 tsp cinnamon
2 pork tenderloins (2 1/4 to 2 1/2 lb total)
2 Tbsp olive oil
For Glaze:
1 cup packed dark brown sugar
2 Tbsp finely chopped garlic
1 Tbsp Tabasco
For Vinaigrette:
3 Tbsp fresh lime juice
1 Tbsp fresh orange juice
1 Tbsp Dijon mustard
1 tsp curry powder, toasted
1/2 tsp salt
1/4 tsp black pepper
1/2 cup olive oil
For Salad:
3 navel oranges
5 oz baby spinach, trimmed (6 cups leaves)
4 cups thinly sliced Napa cabbage (from 1 med. head)
1 red bell pepper, cut lengthwise into thin strips
1/2 cup golden raisins
2 firm-ripe California avocados
Prepare pork:
Preheat oven to 350 degrees.
Stir together salt, pepper, cumin, chili powder, and cinnamon, then coat pork with spice rub. Heat oil in ovenproof 12″ heavy skillet over moderately high heat until just beginning to smoke, then brown pork, turning, about 4 minutes total. Leave pork in skillet.
Make glaze and roast pork:
Stir together brown sugar, garlic, and Tabasco and pat onto top of each tenderloin. Roast in middle of oven until thermometer inserted diagonally in center of each tenderloin registers 140 degrees, about 20 minutes. Let pork stand in skillet at room temperature 10 minutes. (Temperature will rise to about 155 degrees while standing.)
Make vinaigrette while pork roasts:
Whisk together juices, mustard, curry powder, salt, and pepper, then add oil in a stream, whisking until emulsified.
Prepare salad ingredients while pork stands:
Cut peel, including white pith, from oranges with a sharp knife, then cut oranges crosswise into 1/4″ thick slices. Toss spinach, cabbage, bell pepper, and raisins in a large bowl with about 1/4 cup vinaigrette. Halve, pit, and peel avocados, then cut diagonally into 1/4″ slices.
Assemble salad:
Cut pork at a 45-degree angle into 1/2″ thick slices. Line a large platter with dressed salad and arrange sliced pork, oranges, and avocados in rows on top. Drizzle some vinaigrette over avocados and oranges. Pour any juices from skillet over pork.
Makes 6-8 main-course servings. From Gourmet, May 2003.